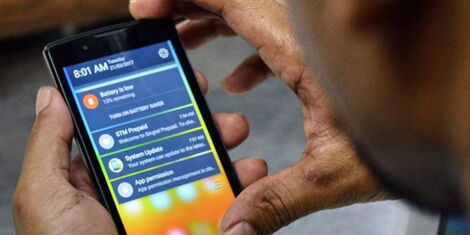 Ever been to a restaurant and paid using mobile money and from there on out you keep getting promotional messages about their offers or the launch of new branches?
Well, as much as these messages will help you bag deals in subsequent purchases, they can be a tad annoying especially those that send you offers that you aren't interested in.
Not to mention how they fill your inbox with numerous messages that end up overshadowing important messages – like those life-saving "you have received *** amount in your M-Pesa account" type of notifications.
Another scenario you can find yourself in is when your child or young nieces and nephews who used your phone to play games, ended up unknowingly subscribing to those premium services – which I've discovered are mostly racing cars games.
It is usually painful when the morning after or on a calm afternoon you get a notification of having received a link to download a game online. The kicker in this situation is that you get charged up to 50bob a message.
Now imagine you have topped up because you want to make an emergency call and immediately the airtime is gobbled up by those premium services subscriptions – annoying right?
In the world of marketing and as the world becomes more data-driven, your personal information helps the businesses and even unscrupulous people target you with deals real or fake in a bid to draw you in.
If you are not careful, you can find your phone leaking airtime in the most unsuspecting ways which end up costing you dearly in the long run.
Data protection is a whole conversation on its own, but the first step is to stop those unsolicited messages, which is a very simple process.
All you have to do is dial *456# from your Safaricom line and Select Option 9 which reads STOP.
Once there, you can check your active subscriptions for Data, SMS, Skiza, Premium Services and Games, Promotional Messages, Weekly notifications, Safaricom Promotion SMS and Roaming Services.
For example, you want to put an end to the promotional messages from a specific vendor – How do you go about that?
Here's a detailed breakdown of the USSD process:
Dial *456# and select option 9 – STOP.

Select option 5 for Promotional Messages and then select Option 1 for Stop Promotional Messages.

Here, enter the Sender Name you wish to stop and viola! You are free.
You can also check on the Premium Services which provide daily tips on love, health, jobs, jokes, news, music and games for a fee.
In the 'Check your Subscription' menu – Select Option 4 where you can check which one you have subscribed to and cancel.
The Weekly notifications option is also available where you can choose to opt-in or out.
With the simple process, you don't have to be at the mercy of the texts which raise your expectations when your phone buzzes but end up being advertisements.
You can manage your subscriptions conveniently and sift through the ones you actually want.
In case the procedure gets complicated or you can't figure something out, you can contact the Safaricom Customer service via Facebook and Twitter and they can guide you on how to go about checking and unsubscribing to the unsolicited messages.
Comments
comments