Mitumba business in Kenya in numbers
90 US cents: Estimated price of a kilo of donated and sorted mitumba goods
3 to 5 weeks: Time it takes for used clothing to be sorted, graded and ready for shipment
4 to 6 weeks: Time it takes for a shipment to arrive at Mombasa.
45 kg: weight per bale
550: Number of bales in one container
US$50,000: Estimated cost to purchase a 40-ft container of merchandise
Sh1.5 million: Estimated cost to clear a 40-foot container
Sh1,500 to Sh50,000: Range of cost per bale
Sh5,000: Annual charge for City Council business permit
Sh15,000 to Sh30,000: Estimated rent for a standard stall in the CBD
50 to 100 per cent: Estimated profit margin per mtumba item
Zero: Tax levied on individual mitumba items
The mitumba successes
"I am not going back to formal employment," Grace Adek says. She has been selling second-hand women's clothes since she was a university student. "I'd buy 30 extra dresses to sell to my schoolmates every time I went shopping for myself," she says. "I'd buy the dresses for Sh50 to Sh100, then sell them for Sh500 to Sh600 bob."
Four years ago she quit her job as a pharmaceuticals marketer to pursue her mitumba business fulltime. She was 32 at the time. At the time, Grace had been dabbling in the business part-time while she worked her day job.
Now, Grace purchases clothes worth hundreds of thousands a week. "Every week I buy stock worth between Sh200,000 and Sh300,000. I make a profit of between Sh100,000 to Sh150,000. I make Sh20,000 on a good day and at least Sh5,000 in a bad one."
In the meantime, costs are low; Grace runs her business online so she has no rent to pay. She has a Facebook page with 29,000 likes, and it is where her customers shop. Besides two motorbikes and their drivers to deliver her orders, there are no other costs.
The second-hand apparel market is a money-spinner – for everyone involved. Along the import and distribution chain, profit margins more than double as the selling costs dwindle. Anyone who's in it makes a killing. And there is a huge market for them, too. According to a 2013 Ipsos survey, 62 per cent of middle and lower income urban Kenyans buy mitumba.
The second-hand market has been blamed for the collapse of Kenya's textile industry. In the 1970s, at its peak, this industry employed 500,000 Kenyans. Now that's down to 20,000. The business has been overtaken by cheap, trendy second-hand clothes. The mitumba business is so lucrative that a caucus of traders was dispatched to State House in March this year to appeal to President Uhuru Kenyatta not to shut down the sector. Nothing has been heard since then of the East African initiative to promote the local textile industry and shut down the second-hand sector.
Where do these clothes come from? They are donations for charities in the US, UK, Australia and Canada. Well-known global charities like Oxfam, British Heart Foundation and The Salvation Army have bins scattered across these countries where people can drop off used items they no longer wear. These items go to charity first. Whatever remains is either resold domestically to thrift stores, or shipped for export to third-world countries. And that's where we come in.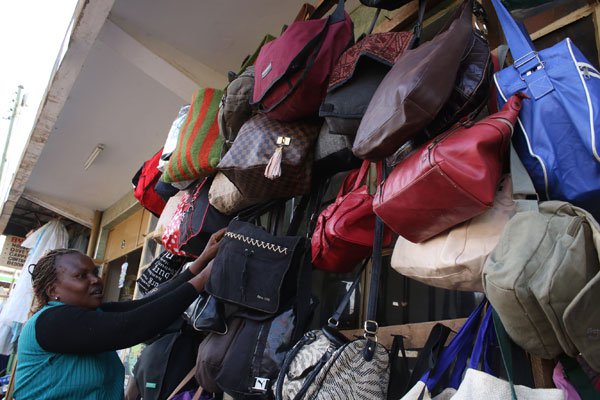 ***
Mwangi, who has asked that we do not use his real name, has been a mitumba distributor since 2011, when he took the business over from his mother. "I am a textiles importer," he says. Textiles are items like clothes, beddings, towels, curtains, and dish and table clothes.
He describes the journey once the clothes are given over for export to third world countries. Export companies buy what doesn't go to charity, for up to US$.90 cents (Sh91) per kilo. The items are then sorted, graded, fumigated and packed for export. "Once they've been processed, the second-hand clothes are packed into 45-kilo bales. Each bale is graded," he says. Grade A items are in near-new condition. Grade B items are gently used and in good condition. Grade C goods have minor defects. Grade D clothes have major defects.  These companies are in business with local guys like Mwangi,
"The bales are packed into a standard 40-foot container. One container takes 550 bales," says Mwangi. That's 25 tonnes of clothes.
Mwangi is based at Gikomba Market, the largest second-hand market in East and Central Africa, and the core distribution point for mitumba merchandise in the country. His store is a simple timber and mabati structure with a concrete floor. It's hard to believe that he deals in goods worth millions. Bales run the length and breadth of his shop.
"I buy the 40-foot container for US$50,000 (Sh5 million). I have a shipping company so my suppliers in Canada and Australia load it into our ship. I used to import from China but not anymore, their quality was not good. It takes between four weeks to seven weeks for the container to get to the port of Mombasa. I have my agent at the port who clears the consignment for me," he says. "A 40-foot container costs around Sh1.5 mllion to clear. The last time I got a consignment was in June. That was before the government increased duty by about Sh200,000."
Mwangi pauses to speak to some retailers who've come to buy bales. Mwangi tells them that another shipment is on the high seas, and that it won't get here until end of August. They leave, disappointed.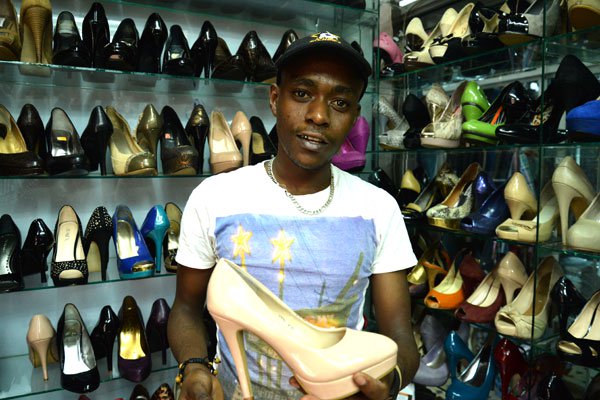 Which brings us to another reason the business is profitable: no taxes are levied on the items you and I purchase. Githii Mburu, a deputy commissioner at KRA (Kenya Revenue Authority), says, "We don't collect taxes from the people who sell mitumba, unless that business is registered for VAT. All taxes on mitumba are collected at the point of entry only. The mitumba sector is an informal economy that is yet to be brought into the tax net."
Mwangi continues, "We load the container onto a truck then it heads for our warehouse in Industrial Area, where it will be offloaded. I keep all the bales there. My rent for the warehouse is Sh80,000 per month. I move the bales from the warehouse to my store in Gikomba. I pay Sh20,000 per month for this space. My customers come to collect the bales from here."
"A bale costs anywhere between Sh1,500 to Sh50,000," Mwangi says. "The cheaper bales are for items that aren't in high demand like ties and men's coats. The expensive bales are for trendy items of camera 1 and 2 – items like designer jeans and jackets.  (In Gikomba, says Mwangi, the lingo for the grades is 'camera 1' for Grade A, 'camera 2' for Grade B, 'camera 3' for Grade C and 'wa kufagia' for Grade D.)
Mwangi can sell up to 100 bales in a day. That's upwards of Sh1.5 million. But he considers himself a small businessman; there are some who ship in up to three containers a week, others more. It takes him about two months to sell all the bales from one container, which is around the time another consignment lands in Mombasa.
The mitumba business employs a sub-structure of support. There is a whole other industry of fundis who repair clothes and shoes. There are people who steam-iron the clothes. There are transporters, security… the buffet is endless. The cost of these services range from Sh20 to Sh200.
Below Mwangi are brokers who deal in the trade of buying then opening the bales to send individual pieces to retailers. Breaking the bales, it's called, and it runs on priority basis, with 'camera 1' being given the first priority to select items from the opened bales, then 'camera 2' and so on.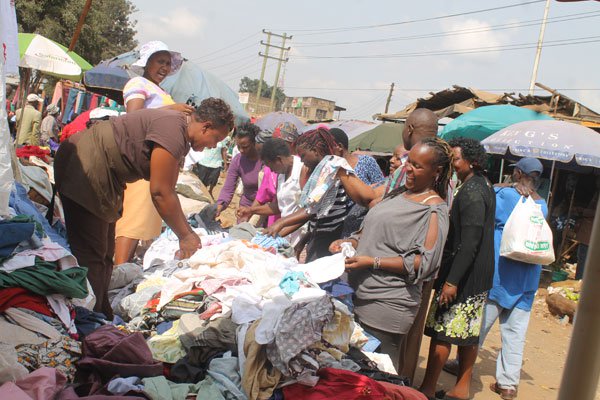 Mitumba business in Kenya: "I built a chain of shops'
Antony Chege, proprietor of the immensely popular Backyard Shoez chain, no longer sells second-hand shoes. However, they are what got him on his path to prosperity. "I started as a hawker on the streets. That was in late 2005," he says. "In 2006, I got my first stall in Westlands. I paid Sh20,000 for the space. It felt like so much money," he laughs nostalgically. "I continued selling mitumba until 2009. Then I registered Backyard Shoez as a company and started selling 'first-hand' and trendy shoes of popular brands. I stopped selling mitumba because it wasn't sustainable for my current market. I have five permanent employees and four branches across Nairobi, including Westlands and Kilimani."
Mitumba business in Kenya: "I make 100 per cent profit"
Norah Kajaira is one of many mitumba shop owners located in Veteran House, in the heart of Nairobi's CBD. She sells ladies clothes only. At 38, she has been in the business for five years. Three of those years were spent hawking clothes to her clients in their offices or at home before she moved to her stall. "I am not registered as a business," she says as she helps a customer sift through a pile of jackets she brought in that morning. "My main expenses are a business permit of Sh5,000 paid to City Council. I pay that once a year. And rent for this space of Sh31,000. Everything else I make from the business is profit. During peak season, I usually bring in clothes worth Sh 30,000 daily. I can make up to 100 per cent margins when the items sell."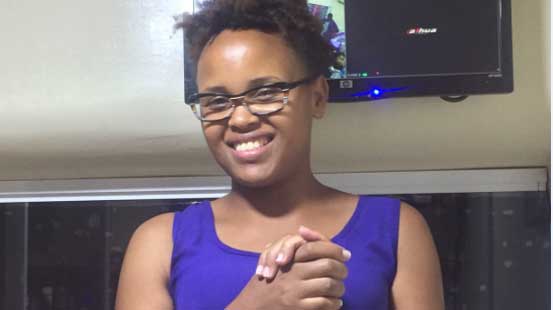 Mitumba business in Kenya: "I make good money off my shoes"
Brian Magero sells 'camera 1' shoes at a stall off Moi Avenue. He's 23. He's been selling shoes for three years now. "I get the shoes from Gikomba every Monday, Wednesday and Friday, spending at least Sh10,000 daily," he says. "In a good week, I can get back everything I put in, plus more. There are some weeks where I make less than Sh5,000, other times I make nothing."
Comments
comments